International investments Executive Team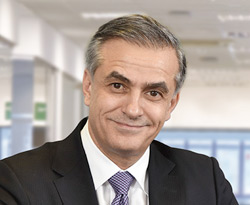 CEO International Investments – Ihab Hinnawi
Ihab Hinnawi was appointed as CEO of Batelco's International investments in May 2019 having held the role of Group CEO since December 2015.
Ihab, who joined Batelco's sister operation Umniah as Chief Executive Officer in 2009, draws on over 25 years of extensive managerial experience to lead the Company's industry-pioneering operations. Prior to assuming the CEO role at Umniah, Mr. Hinnawi held the role of General Manager Enterprise Division at Batelco Bahrain and subsequently the role of CEO at Batelco Jordan. In 2004 Mr. Hinnawi helped to establish Umniah, as a key member of its initial management team, and continued to work as the Operations Director of Umniah until 2007.
His repertoire of key expertise includes increasing revenue, effecting management change, developing new businesses, managing high stake negotiations, strategic planning, developing key partnerships, building corporate and marketing strategy, effecting risk management, and leading organizational restructuring.