Batelco Presented with High Performing Partner of the Year 2017 – Avaya Award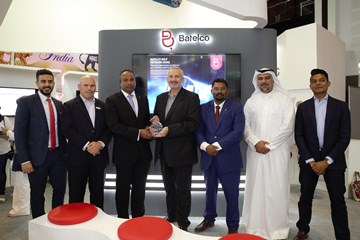 **Award Presented by Westcon Group at GITEX 2017**

Manama, Bahrain: Batelco, Bahrain's leading digital solutions provider has been presented with the High Performing Partner of the Year 2017 – Avaya Award, by Westcon group, at GITEX 2017.
GITEX, the biggest annual ICT event in the MENA region, took place at Dubai's World Trade Centre from October 8 to 12.
Batelco Chief Operations Officer Abderrahmane Mounir, who attended the major event, said that Batelco is delighted and honoured to receive this important Avaya award from its distributor Westcon Group.
"This achievement would not have been possible without the diligent efforts of many teams at Batelco who continue to prioritise the requirements of our business customers," he said.
Batelco is an Avaya Diamond Certified Partner given in recognition of the Company's commitment, investment, experience and dedication to customer satisfaction and furthermore the Company has an ongoing commitment to provide the best-in-class solutions for its customers to support their efforts to grow and optimise their businesses.
Westcon Group Managing Director Steve Lockie said, "We are very pleased to recognise Batelco as the highest performing partner of the year for its outstanding efforts in delivering Avaya solutions for its enterprise customers in Bahrain. Our partners play a crucial role in driving Avaya's growth and customer-centric strategy."
Batelco is a major ICT vendor in the region and is the largest partner of Avaya in Bahrain.  The attainment of this award is a direct result of the company's significant investments in the latest telecommunications and ICT technologies that ensure its customers are among the first to enjoy the benefits of such technologies. Batelco designs, engineers and implements Avaya telecommunication systems for businesses and government entities across Bahrain.
Caption: Batelco and Avaya representatives at Batelco's GITEX Stand
More recent news
Batelco to provide advanced ICT solutions Batelco, the leading digital solutions provider in the Kingdom of Bahrain has signed a partnership agreement with Dilmunia Mall Development Company. Batelco was appointed…
Batelco, as part of its commitment to community initiatives, is sponsoring the 12th edition of Al Sawari International Theater Festival for Youth, which is currently taking place under the patronage…
Batelco's General Manager Cyber & Corporate ​​Security Dr. Sh. Khalid Bin Daij Al Khalifa delivered an address at the opening ceremony of the 3rd edition of the Bahrain Smart Cities…