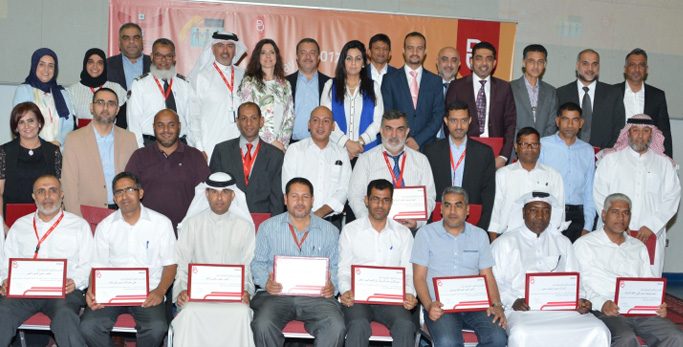 Batelco Hosts Labour Day Event to Celebrate Employee Dedication
Over 200 Long Services Employees recognised at Annual Celebration

Batelco, Bahrain's leading Digital Solutions Provider hosted a major event to celebrate the dedication of all its staff and mark the occasion of Labour Day. As part of the event, which took place at the Company's Staff Centre, over 200 employees who have been with Batelco for up to 40 years were recognised for their long service.
Batelco Bahrain CEO Eng. Muna Al Hashemi and Batelco Bahrain General Manager HR & Corporate Services Ebru Pilav plus a number of Batelco's executive management team were in attendance on the joyous occasion.
Eng. Al Hashemi said that she was delighted to celebrate the efforts of all Batelco's employees and additionally honour the dedication of the long serving staff members.
"It's a true testament of the strong sense of family that is evident at Batelco that we have staff that have been working for the Company for up to 40 years. We have many Bahrainis who joined Batelco as students or graduate trainees and have remained with us throughout their working lives."
"Their contribution to Batelco and to telecommunications in the Kingdom of Bahrain is very commendable. Many have been part of this great industry that has shaped the way we all communicate having entered the industry when mobility and internet were a far sighted dream," she said.
"We are proud of all our people and it gives us great pleasure to commemorate their loyalty and dedication to this great organisation," Eng. Al Hashemi added.
Furthermore, Mrs. Pilav congratulated the employees and urged them to continue engaging in more educational programmes during the coming year.
"Batelco has always emphasized the importance of continuous learning and has sought to empower employees by providing them with training opportunities that support their development within and outside the workplace. In addition to e-learning and classroom programmes, Batelco is developing plans for the professional development of young Bahrainis who are honing their skills to be leaders of the future," she added.
Following the speeches and awarding of the long service awards, the staff gathered to enjoy a Bahraini breakfast.