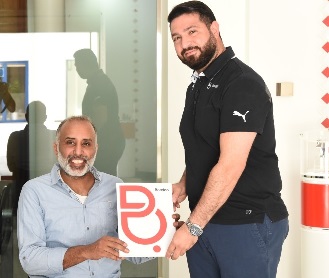 Batelco Sponsors 'Road to Moscow' *Exclusive Telecom Partner*
Manama, Bahrain: In line with its continuous commitment to empower the disabled community, Batelco, the Kingdom's leading digital solutions provider, is delighted to sponsor the 'Road to Moscow', a unique journey in support of people with special needs.
Led by BDF employee, Ahmed Al Buainain, the 'Road to Moscow' is a journey that aims to defy all challenges for those with special needs in regards to travel and raising awareness for the disabled community. Travelling by car, Mr. Al Buainain started his journey on the 24th of August with an ambitious goal to reach Moscow within two months, passing through 20 European countries.
Documenting his whole journey via social media channels, Batelco is providing Mr. Al Buainain with free data service throughout his journey to share his story throughout Europe.
Batelco Bahrain CEO Eng. Muna Al Hashemi stressed on Batelco's eagerness to support causes in the Kingdom of Bahrain that aim to raise awareness on significant matters affecting the community.
"We have a duty towards empowering the disabled community in the Kingdom of Bahrain, and we are extremely proud to sponsor such an important initiative and be able to be part of Ahmed Al Buainain's inspiring journey," commented Eng. Al Hashemi.
"His story is one that should be heard, and we are pleased to play a role in fulfilling that part," she further added.
Batelco's support to 'Road to Moscow' reflects the company's eagerness to empower the disabled community, encouraging change.
Caption: Batelco Corporate Affairs Senior Manager Osama Alsaad with BDF employee Ahmed Al Buainain ahead of his epic journey