Batelco Introduces Unlimited Usage on Fiber Internet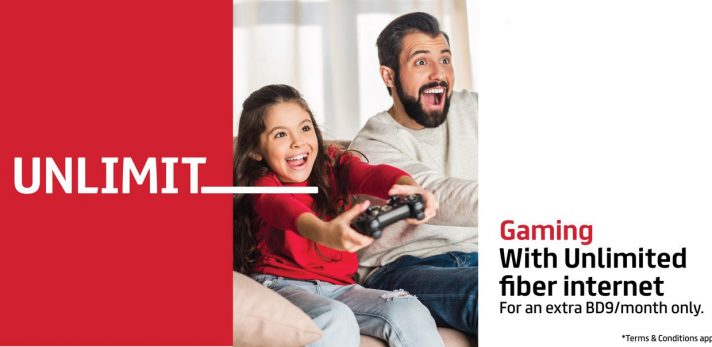 Batelco has announced some great news for Fiber Internet users in Bahrain. Batelco Fiber customers can now enjoy the infinite world of the internet, with the newly launched unlimited Fiber Internet offer.
With unlimited Fiber Internet, users can experience unlimited streaming, downloading and browsing, and enjoy the internet with no limits. Users will never miss favourite HD movies, live sports, gaming and all the latest news with high quality, uninterrupted connection.
Batelco's Fiber Internet users on the 500Mbps package can enjoy a truly unlimited experience, while users on other Batelco Fiber Internet packages, can also benefit from unlimited usage for an additional BD9/month only.
Commenting on the launch, Batelco CEO Mikkel Vinter said, "We are committed to unleash the full potential of the internet for our customers, empowering the preferences, lifestyles, and a world of seamless entertainment."
"With the growing requirement for virtual learning, home automation and online transactions, Batelco Fibre customers are demanding higher thresholds and reliable connectivity, without having to worry about their data consumption," he added.
Users on the Batelco Fiber Internet 500Mbps package will automatically benefit from unlimited usage while other internet customers can subscribe to the bolt-on by visiting shop.batelco.com or by visiting any Batelco Retail shop.
For more details, visit batelco.com
More recent news
Batelco has announced its partnership with Huawei to donate 500 sets of Smart Home Wi-Fi products to INJAZ Bahrain, addressing the requirements of distance learning. The partnership was announced during…
As part of its efforts to contribute towards serving members of society during this time, and in line with the efforts of the Royal Humanitarian Foundation to provide aid and…
Batelco continues to launch initiatives that serve the needs of the community during this difficult period, in line with efforts in combating the Coronavirus and its impact on the society,…