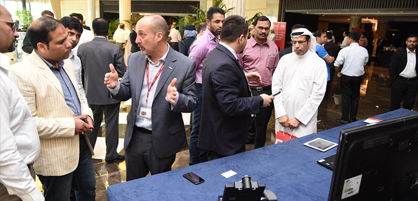 Batelco and Avaya Host Enterprise Technologies Conference
Batelco and Avaya Host Enterprise Technologies Conference

Batelco, Bahrain's leading business communication solutions provider and Avaya have successfully collaborated to deliver a major event for the Enterprise segment. The Enterprise Technologies Conference which showcased the latest Avaya technologies, was held at the Ritz Carlton on May 21.
The Batelco-Avaya conference provided a forum for enterprises across all segments to interact and experience Avaya solutions for effective and seamless digital transformation, and have their technology related questions answered by industry experts.
During the event, participants had the opportunity to build on their existing Avaya knowledge through various presentations conducted by experts on how the company approaches each customer engagement from an 'outcome-based' consultancy approach, wherein the right technology solution is matched to a customer challenge or pain area. A range of Avaya's solution suites were highlighted such as Data, Networking, Video Conferencing and Cloud solutions.
Batelco General Manager Enterprise Division Adel Al Daylami said that Batelco, as a Gold Avaya Connect Channel Partner in Bahrain, was very pleased to join hands with Avaya to support and benefit their mutual business customers.
"The year ahead looks very promising for Batelco and Avaya with plans in place for new innovative solutions designed to enable our valued customers to succeed."
Avaya Senior Territory Manager Danny Drewsaid, "Customer success is our ultimate goal, and this event with Batelco was a great opportunity to spark conversations with many professionals and customers in Bahrain. We look forward to strengthening our engagement in this market and driving meaningful enterprise transformation."
Batelco is a leader in the ICT market in Bahrain through its extended portfolio which includes Telephony, Data Networking, Physical and Virtual Security and Cloud Solutions which help clients boost their productivity, increase revenues and improve their customer experience levels.