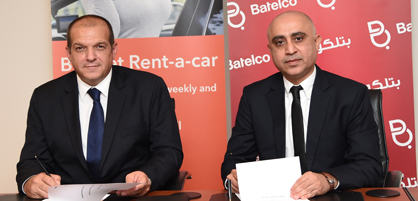 Batelco and Budget Rent-a-Car Sign MoU to Provide WiFi Solution On-the-Go for Budget Cars
**4G Mobile Broadband Service on the Road**

Batelco, Bahrain's leading communications solutions provider and Budget Rent-a-Car, a leader in the International Car Rental Industry, have signed a Memorandum of Understanding (MoU) to facilitate WiFi solutions for Budget's Chauffeur Driven and daily rental fleet based in Bahrain. This service will ensure that passengers can be connected and stay in touch with their loved ones while on the go, with the latest 4G LTE internet solution.
The MoU was signed by Batelco A/General Manager Consumer Division Ebrahim Al Sayed and Budget Rent-a-Car General Manager Tony Hinder in the presence of other officials at Batelco's Headquarters in Hamala this week. The agreement will see Batelco provide WiFi service via its super-fast 4G network, in all of Budget's Chauffeur Driven Fleet. The service will later be enabled throughout the entire Bahrain based fleet.
Mr. Al Sayed said that Batelco is very pleased to sign the agreement with Budget and support their efforts in providing an excellent service to ensure its customers' satisfaction.
"This is in line with meeting the evolving needs of customers who demand to be in touch 24/7, regardless of location. This service will enhance the lifestyle of people who want to have high speed connection on the go and it is anticipated that the service will prove to be very popular," added Mr. Al Sayed.
Mr. Hinder said that Budget was delighted to join hands with Batelco to offer the WiFi services for its customers and thanked Batelco for supporting them in their efforts to improve value added benefits for its clients.
"Customers seek high speed Wi-Fi services at all times even if they are travelling by car and it is a great benefit especially for business customers who can catch up with work while being chauffeur driven."
"Furthermore, it is becoming the norm for most people to stay connected through online social networks and instant messaging at all times. Accordingly, we will continue to invest in further improving our services," added Mr. Hinder.