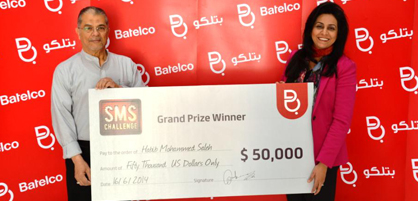 Batelco Announces Grand Prize Winner in SMS Challenge
**Batelco Concludes its $161,000 Cash Prizes Challenge**
Batelco is delighted to announce the Grand Prize winner of its very popular SMS Challenge.  Bahrain's leading Telecommunications Company  has also announced the final daily winners for Week 13 of the Challenge.
In total, there were 63 daily winners of $1000 cash prizes, 24 weekly winners of $2,000 cash prizes (12 selected in a lucky draw and 12 prizes to the top participants) and one very lucky winner of the grand prize of $50,000.
For week 13 there were three daily winners of $1000 each, Devika Rani Arachchige, Salman Falah Aljumairi and Mohd Jaffar Alaradi.  The lucky winner of the $50,000 Grand Prize is Habib Mohammed Ali.