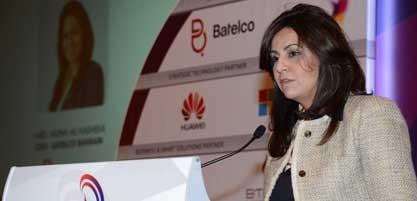 Batelco Bahrain CEO Addresses Audience at Meet ICT 2016
**Batelco shares latest Cloud & ICT solutions at Meet ICT**
Batelco Bahrain CEO Eng. Muna Al Hashemi attended the opening ceremony and addressed the audience at MEET ICT & BITEX 2016 which is taking place at the Gulf Convention Centre from 4 to 6 January under the patronage of Minister of Transport and Communications H.E. Eng. Kamal bin Ahmed Mohammed and organised by BTECH (Bahrain Technology Companies Society) and Worksmart.
During the event Batelco has sponsored several technological sessions touching upon ICT, Cloud and security disciplines. Batelco has always been keen on spreading the knowledge to the business society through the numerous conferences and workshops it holds throughout the year.
Positive feedback was received following the sessions sponsored by Batelco, encouraging the company to further take on the roll of being the technological leader in the Kingdom and an active thought leader. Batelco, as the exclusive ICT sponsor of the event, implemented the varied connectivity requirements which greatly contributed to the success of the event.
MEET ICT is an annual event that attracts all IT and ICT companies to share the latest trends and technologies. It hosts several activities such as workshops, business matching sessions and meetings & exhibits that aim to enhance the experience of the participants and enable them to exchange knowledge and ideas on different platforms.
Mrs. Al Hashemi said, "Being a leading player in the ICT market we are now also developing new services and solutions in line with the new digital age and will remain focussed on meeting our pledge to provide our business customers with the best-in-class relevant solutions in order to help them grow and optimize their businesses."
As the innovation driver in Bahrain, Batelco was the first in the Kingdom to launch a series of locally hosted cloud-based services and in addition, Batelco collaborated with industry leaders such as Cisco to offer customers a wider portfolio of Cloud services. All are solidified by Batelco's widely acclaimed Information and Communication Technology (ICT) services. To suit the organisations' diverse needs, Batelco offers enterprises the ability to fully customise the specifications for these services.
Through its support for this key technology conference and exhibit, Batelco reiterates the alignment of its goals to those of the Kingdom of Bahrain's and emphasises its support towards the digitisation drive in Bahrain.