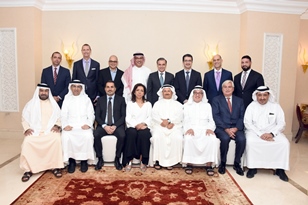 Batelco Board of Directors and Senior Management Attend Key Strategy Workshops
**Successful transformation key to ongoing success**
Manama, Bahrain: Batelco's Board of Directors and Senior Management from Batelco Bahrain and across the Batelco Group have attended key strategic workshops under the theme of Focus for a Successful Transformation. The Group collaborated with leading international experts to deliver the workshops which took place in Bahrain recently.
The workshops provided the platform for all concerned to discuss the many challenges and opportunities available and devise strong strategic plans that will support their shared goals, which include successfully transforming Batelco Bahrain and its joint venture companies for the next phase of their growth.
Among the strategic objectives discussed were a focus on improving operational efficiencies and innovating for the future with the importance of digital transformation and cyber security highlighted as crucial elements.
Batelco Chairman Shaikh Mohamed bin Khalifa Al Khalifa said that having the opportunity to bring together members of the Batelco Board and senior management from across the Group was invaluable.
"The opportunity to spend a number of days together to discuss the comprehensive strategic plans for Batelco in Bahrain and the Group, and devise focused initiatives and action points, was appreciate by all involved. With everyone on the same page, we will now be focusing on the agreed outcomes to achieve our strategic objectives during the coming years"
"Our combined efforts are designed to support the requirements of Batelco Group across all geographies by enabling each entity to meet the differing and specific communication needs of its business customers and consumers," Shaikh Mohamed concluded.
Caption: Members of Batelco Board of Directors and senior management from across the Batelco Group who attended the workshops