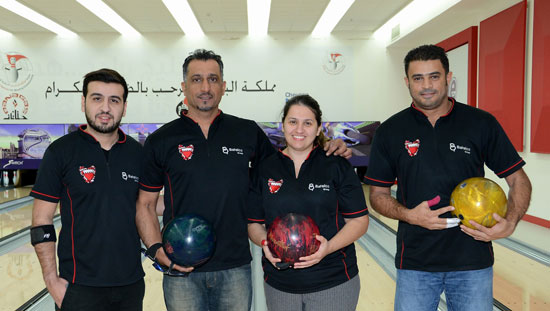 Batelco Bowling Team Wins 2014 Bahrain Industrial Bowling League
Batelco is delighted to announce that its Bowling Team has won the 2014 Bahrain Industrial League following their great win in the final match against Tatweer 8-0. In winning the match at Ozone Bowling Center, the team pulled ahead of Asry by one point, to take the trophy home to Batelco.
Batelco team captain Ali Aqeel stated that the team consists of some of the best players in town, including Batelco employee Fawaz Abdulla, who recently succeeded in qualifying for the top 4 in the world championship (PBA Professional Bowling Association). Also on the team are Mohd Sultan, Nadia Aqeel, Medel Salazar, Mohd Al-Abbasi, Mahdi Assad and Sarah Janahi.
In addition to this title, Batelco Bowling team has also recently been awarded with two other titles at Awali Bowling Center, including the Bapco and Chevron Leagues.
Mr. Aqeel added that the Team in now focusing their attention on the Industrial knock out tournament and the Masters Championship, which are coming very soon.