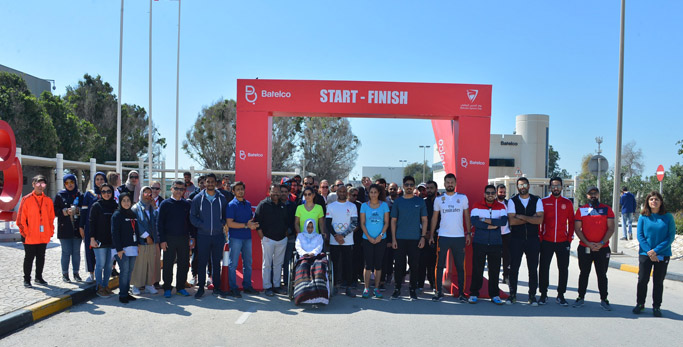 Batelco Celebrates Bahrain National Sports Day 2019
Batelco, in line with its commitment to support national events and to engage its people in fun activities, and in accordance with the Government's decision to allocate half a working day to National Sports Day 2019 as organized by the Bahrain Olympic Committee, hosted a number of sports activities at the Batelco Staff Centre in Hamala.
A number of activities took place during the day including a 2K race, a Zumba class for ladies and a Football league. Additionally, a fitness challenge led by LIFT Strength and Conditioning Centre took place, where teams competed to win great prizes, which created a fun, friendly and competitive atmosphere.
Batelco also hosted its employee Rana Al Alawi, who shared health and fitness tips. Rana was placed 3rd in Bahrain and GCC in the Amateur Category of the most recent ironman 70.3 Triathlon.
Batelco is committed towards enhancing the lives of its employees through spreading awareness on the importance of health. As the national telecommunications company in the Kingdom, Batelco also seeks to be at the forefront of companies and institutions that support the Kingdom's endeavors and initiatives.
Bahrain National Sports Day, organised by Bahrain Olympic Committee, was created to promote sports and health-enhancing physical activities in the Kingdom of Bahrain. This is in line with the resolution of the heads of the GCC Olympic Committees to designate a sports day during the second week of February.