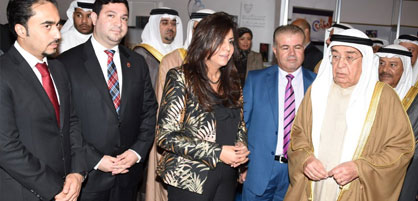 Batelco CEO Attends Opening of Al Ayam 22nd Book Fair (Cultural Festival)
**Local and International Publishers Participating**
Batelco Bahrain CEO Muna Al Hashemi was delighted to join dignitaries and officials of leading companies for the opening of Al Ayam's Book Fair which was held on 1st October. The event was opened by Deputy Prime Minister His Highness Shaikh Mohammed bin Mubarak Al Khalifa. Batelco, as part of its commitment to culture and education, is sponsoring the ten day event which is taking place at the Bahrain International Exhibition & Convention Centre from October 1 to 15, 2015.
Several local and international publishers are participating to display and sell a wide range of books in Arabic and English. Over 200 publishing houses are in attendance offering over 150,000 titles.
Mrs Al Hashemi said that Batelco was a very keen supporter of cultural events which provide great opportunities and entertainment for the general public.
"This event has been taking place successfully for years and attracts large crowds to view the fantastic range of books on display. The fair provides a great opportunity to pick up new titles as well as gifts for family and friends."