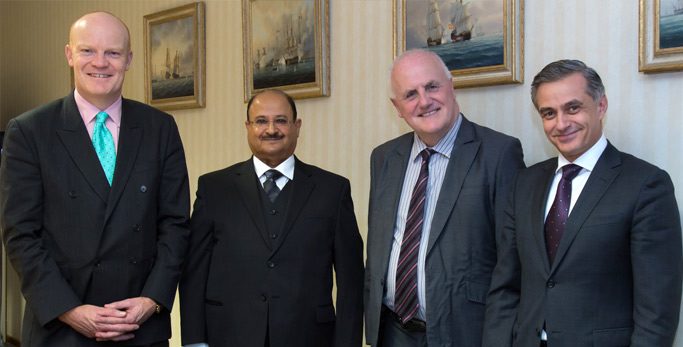 Batelco Chairman and Delegation Meets with State of Guernsey Officials
Batelco Chairman Shaikh Mohamed bin Khalifa Al Khalifa and senior Batelco officials recently met with Guernsey Government officials to discuss the unwavering commitment of the Batelco Group to Guernsey.
Shaikh Mohamed, supported by Batelco Board Director Oliver McFall and Batelco Group Chief Executive Officer Ihab Hinnawi, met with States of Guernsey Chief Minister Gavin St Pier and States of Guernsey President of Committee for Economic Development Peter Ferbrache and their senior management team.
Shaikh Mohamed said that during the meeting discussions took place about the future digital services for the Guernsey Government.
"This is an exciting project to transform key communication services in Guernsey to deliver both Public Sector reform and economic development opportunities to the already prosperous island."
Mr. Hinnawi added that the discussions also focussed on how the collaboration between the public and private sectors can rapidly accelerate societal goals particularly through digital enablement of both Government entities and the wider community.
"As part of our strategy for our subsidiaries, Batelco is continuously upgrading communications services for Guernsey, which is under the umbrella of SURE Group located in the Channel Islands. During the third quarter of this year SURE completed the roll out of its 4G+ network and further enhanced 4G coverage," noted Mr. Hinnawi.
The Batelco Chairman concluded by stating that it was Batelco's pleasure to meet with the State of Guernsey officials to learn more about the island and its communication needs.
"We are fully committed to supporting communication initiatives that meet the needs of our subsidiaries. We understand that each location has its own specific needs; accordingly we strive to deliver relevant solutions for their public and private sectors as well as consumers," added Shaikh Mohamed.