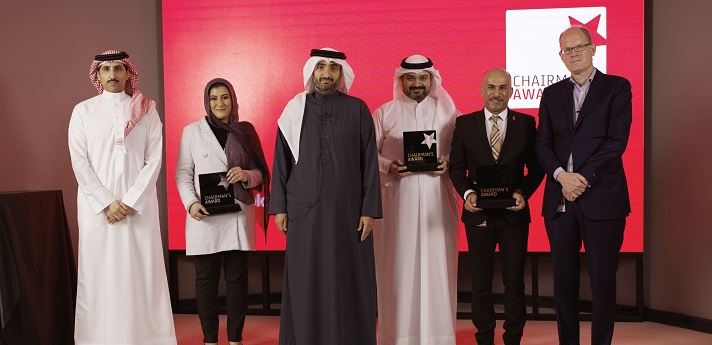 Batelco Chairman Presents the Winners of the "Chairman's Award"
Batelco Chairman Shaikh Abdulla bin Khalifa Al Khalifa rewarded the winners of the Batelco "Chairman's Award" during the annual Town Hall that took place at Batelco's Headquarters. The event was broadcasted live to Batelco team members, of which 80% continue to work remotely due to COVID-19.
Launched under the direction of the Chairman, the "Chairman's Award" is an annual award created to acknowledge and reward Batelco team members who have demonstrated exceptional performance and have accomplished remarkable achievements while practicing the Company's values.
The 12 finalists were selected from a pool of high performing employees that have been selected by the top management team on a monthly basis throughout 2020.
The names of the winners were revealed for the first time to all Batelco team members in an exciting atmosphere amid much anticipation. The 3 winners who each took home a trophy and cash reward are Hussain Abdulla in first place, Sana Mayoof in second place and Hussain Barakat in third.
Commenting on this rewarding ceremony, Shaikh Abdulla said, "I'm pleased to be here today to award the winners in person as they truly deserve the recognition, and I would like to take this opportunity to personally congratulate them on their success. It has been a long selection process with the involvement of Batelco's top management team and Board members, and the finalists have proven themselves at each stage. It was a difficult task to select a clear winner but encouraging a healthy competition is always a good thing."
"People are the greatest assets of Batelco and we on the Board are very pleased to see promising young talented Bahrainis who are the leaders of tomorrow. It's important to support them, encourage them to realize their full potential and provide them with the tools to ensure a bright future," he added.
Batelco's CEO Mikkel Vinter who was also present on the occasion gave a presentation to the Batelco team members highlighting Batelco's achievements for 2020 and outlining the strategy for 2021.
"We were honored to have the attendance of the Chairman today to present the awards to the winners in person. This reflects the importance the Chairman and the Board gives to encouraging young talents. I would also like to congratulate and recognize the 12 finalists," said Mr. Vinter.
"The "Chairman's Award" is one of the main initiatives that Batelco is putting in place as part of its culture transformation journey in line with its strategic vision and mission. This is a positive way to start the year and we have exciting plans to continue with this journey in 2021," he added.