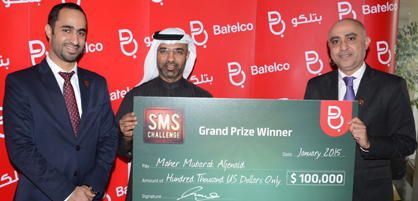 Batelco Challenge Grand Prize Winner Announced
**Conclusion of Challenge for 2014/2015 as Winner Receives $100,000 Cash Prize**

Batelco Bahrain is delighted to announce the winner of its second SMS Challenge of 2014 which delivered daily cash prizes. The Challenge which began on October 13, 2014 ran for 88 days until January 8, 2015.  Throughout the competition, there were numerous opportunities for customers to win cash prizes from $500 up to $100,000 as part of the total prize fund of $155,500.
In total, there were 63 daily winners of $500 cash prizes, 24 weekly winners of $1,000 cash prizes (12 selected in a lucky draw and 12 prizes to the top participants) and one very lucky winner of the grand prize of $100,000.
The Grand Prize winner, Maher Mubarak Aljenaid, was presented with the $100,000 prize by A/General Manager Consumer Division Ebrahim Alsayed at Batelco Hamala Headquarters recently.
Speaking on the great occasion, Mr. Aljenaid said that he was so surprised and absolutely delighted when he received the phone call from Batelco telling him he had won the grand prize of $100,000.
"I felt confident that I had a good chance in the competition but nonetheless getting that phone call certainly gave me a wonderful start to the new year of 2015."
"I really enjoyed the Challenge, the interaction between Batelco and the customer is great and the messages I received updating me with the number of points I had really motivated me. The whole experience was positive and great fun and I also learnt a lot of general knowledge along the way," Mr. Aljenaid said.
Please visit smschallenge.batelco.com for more information and winner announcements.