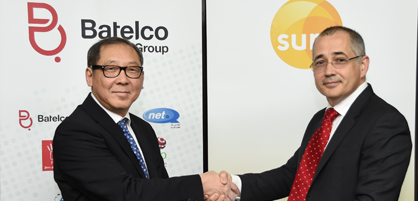 Batelco Group Signs with Star Solutions to Provide Mobile Networks for its Customers in the South Atlantic Region
Batelco Group, with operations across 14 geographies and Star Solutions, a global leader in mobile network infrastructure products, have signed an agreement that will see the Canada based Star Solutions build and implement GSM/LTE mobile networks for Sure South Atlantic, Batelco Group's operations in the South Atlantic region.
The partnership was announced following a recent meeting at Batelco's Headquarters in Hamala, Bahrain, attended by Star Solutions CEO Jack Mar and Sure South Atlantic & Diego Garcia CEO Ian Kelly.
The LTE enabled network will meet customer demands for mobile services in the South Atlantic, specifically for St. Helena and Ascension Island. This investment is part of Batelco Group's ongoing strategy to build and enhance mobile networks across all of its operations.
"This major project for Sure South Atlantic will see the launch of mobile networks in St. Helena and Ascension Island, providing mobile Broadband capability and superior voice quality for our customers there." Mr. Kelly said.
Mr. Kelly said that Batelco Group selected Star Solutions as the company pioneered all IP based wireless infrastructure technologies and more importantly, has years of experience in delivering effective mobile network solutions in remote locations around the world.
"Star Solutions which has a proven record of achievement in deploying networks, offered a bespoke service that addressed Sure's immediate needs in St Helena and Ascension Island and will deliver the best solution possible to allow us to provide required mobile services," he added.
Star Solutions CEO Jack Mar said that they were delighted to join hands with Sure South Atlantic and Batelco Group for this major infrastructure project.
"Our combined GSM and LTE solution enables Sure South Atlantic to offer customers a great mobile experience that will meet ever increasing demands," he added.
"The project is already underway, and our customers in St Helena and Ascension Island can now look forward to mobile services being launched later this year," concluded Mr. Kelly