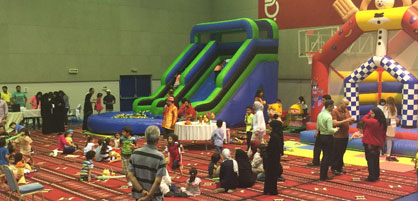 Batelco Host Kids@Work Day
**Enhancing Employees' Work and Lifestyle Experience**
Batelco, in line with its commitment to its employees, makes every effort to enhance their satisfaction through arranging staff engagement programmes. Accordingly, Batelco recently hosted a company-wide event to give staff the chance to bring their children to work for a day filled with fun, games and entertainment.
As part of the Kids@Work event staff took their children to Batelco's Hamala Complex to have a tour of the campus and see where their parents work. However the highlight of the day was a party held at Batelco's multipurpose hall which was transformed for the occasion into a fun zone complete with bouncy castles and slides. Lots of games and activities were arranged to entertain all age groups and party food and refreshments were served. The event was hailed a huge success with the children and their parents and the Company's HR Department received very positive feedback with many requests to hold a similar event in the future.
Batelco Bahrain General Manager Human Resources and Corporate Services Suhaila Alnowakhda said that the event was created as an appreciation for Batelco's dedicated staff to give their children an opportunity to see where their parents work with pride and joy.
"We appreciate and respect the work-life-balance and we as a company wanted to be part of our staff's personal life and give back to their families. What better way to do so than bringing the family together for a day filled with fun and laughter."
"The event has proven to be a success beyond our expectations and it has strengthened the relationship between employees and their children and families. It has also contributed in creating a fun atmosphere enjoyed by all. This reflects back on our company policy of creating a working environment that embeds the spirit of one family. Thanks to all the teams involved from both the Human Resources and the Marketing department that made this possible," added Mrs. Alnowakhda.