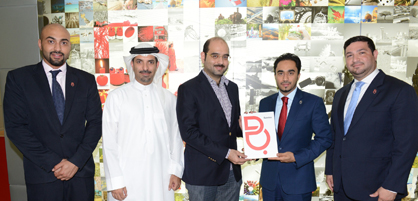 Batelco Provides Fibre Optic Broadband Connectivity to Farouk Almoayyed Center for Enterprise Development
The Farouk Almoayyed Center for Enterprise Development (FACED) is proud to announce the high-end connectivity support provided by Batelco to the Center's 20 SMEs members and businesses.
Mr. Ahmed Subah Al Saloom, Chairman of Bahrain Small and Medium Enterprises Development Society, and Managing Director of FACED commented "The management of the Center is very pleased with the generous support provided by Batelco, which will provide free high quality fibre optic broadband services to the enterprises incubated in the Center. This is an important initiative that would support businesses and offer them a better opportunity to develop in the market".
"FACED offers various services to institutions positioned within the Center. It also helps create a special environment suitable to enable businesses to enhance their operation through their communication with the market as well as offer more opportunities for business in a shorter period of time. The advanced telecommunications solution is one of the important factors that plays a key role in the success of these projects. We really appreciate this valuable initiative by Batelco".
"FACED focuses on supporting entrepreneurs and youth with their own start-up businesses and find their way towards success. The center is an important initiative in supporting SMEs and gives them opportunity to succeed". Al Saloom added.
FACED is a business incubator that hosts up to 20 office stations. It is currently hosting young entrepreneurs and will help them transform their ideas, innovations and talents into successful businesses.
Batelco Senior Manager Corporate Affairs, Mr. Osama Alsaad said "This initiative comes as part of our role being the leading solutions provider for advanced communications in Bahrain, in supporting SME businesses. This will surely contribute to the development of the economy as well as entrepreneurs".
"We are very happy to provide the latest telecommunication solutions to the Center, which aims to meet the needs of the enterprises incubated within the Center. This initiative comes as part of our active role in sponsoring various economic, sports and social initiatives. We do believe in the importance of supporting Bahrain's economy and investing in the SMEs sector".