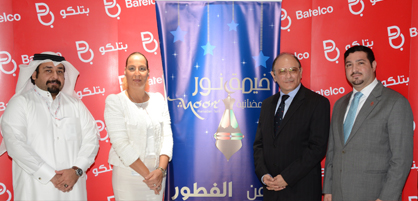 Batelco Sponsors Elite Resort & Spa Al Noor Ramadan Tent
Batelco, as part of its commitment to the community has sponsored key Ramadan events and venues including a number of Ramadan Tents located at some of Bahrain's leading hotels. For the 2nd year, Batelco has included the Elite Group in the list of organisations receiving its support for the month of Ramadan.
Batelco Group General Manager Media Relations Ahmed Al Janahi said that Batelco was very pleased to align itself with the Elite Group as it holds such a prominent position in Bahrain's hospitality industry.
"Ramadan is a very special time on the Bahraini calendar and we therefore strive to support a varied range of activities that add value for our customers and all residents of Bahrain," added Mr. Al Janahi.
Elite Hospitality Group's Chief Operating Officer Sarosh Aibara said: "Al Noor Ramadan Tent at Elite Resort & Spa is known for its lavish offerings, friendly services and easy on pricing, quite similar to what Batelco offers. We value our partnership with Batelco who has always been a supporter for many Bahraini organizations."