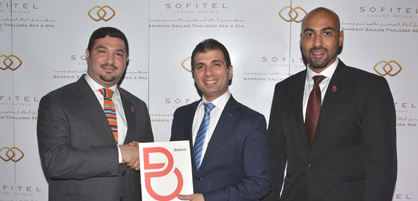 Batelco Sponsors Sofitel Bahrain Thalassa Sea and Spa Ramadan Tent
Batelco, as part of its commitment to the community has sponsored a number of Ramadan events and venues including the Ramadan Tent at the Sofitel Bahrain Thalassa Sea & Spa.
Batelco Group General Manager Media Relations Ahmed Al Janahi said that Batelco was very pleased to align itself with the elegant beach-side luxury hotel by supporting the Sofitel Bahrain Thalassa Sea & Spa for the 4th year.
"The Sofitel has become a landmark hotel in the Kingdom of Bahrain and has grown in popularity, drawing huge crowds of local residents as well as visitors from the region and further afield."
"Ramadan is a very special time on the Bahraini calendar and we therefore strive to support a varied range of activities that add value for our customers and all residents of Bahrain," added Mr. Al Janahi.