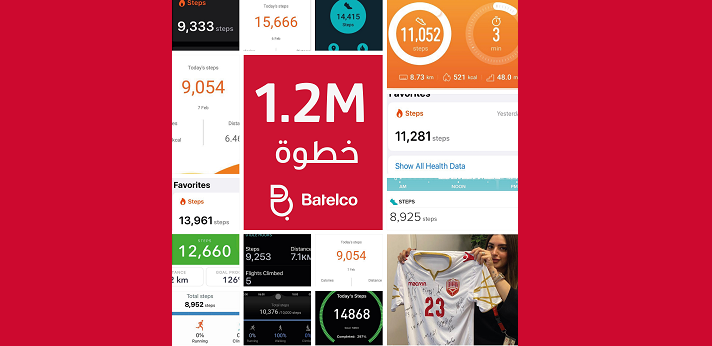 Batelco Team Achieves 1.2 Million steps in its Virtual Challenge to Celebrate Bahrain Sports Day
Batelco celebrated the fifth edition of Bahrain Sports Day by holding a virtual challenge for its team members, encouraging them to achieve 1M steps in six days. Participation was high with team members sharing their daily steps via Batelco's internal Instagram account.
Batelco marked the occasion of Sports Day via a live virtual show, when the number of steps was revealed to be 1.2M reflecting the success of the challenge. A raffle draw took place for those who participated in the challenge, with prizes such as Apple watches, Huawei watches, Samsung watches and Apple AirPods, in addition to cash prizes, handed out. Furthermore, two Bahrain National Football team jerseys signed by all team players were included in the raffle prizes.
Batelco General Manager Corporate Communications & CSR Shaikh Bader bin Rashid Al Khalifa said, "Batelco is proud of its national identity and support for all national activities, particularly sports activities. The company confirms its pride in cooperating with the Bahrain Olympic Committee and its commitment to the directives of His Highness Shaikh Khalid bin Hamad Al Khalifa, First Deputy Chairman of the Supreme Council for Youth and Sports (SCYS) and Bahrain Olympic Committee (BOC) President, with regards to celebrating Bahrain Sports Day virtually due to the coronavirus pandemic."
"Due to the current circumstances, we have launched the #StayAtHome campaign that aims to encourage people to conduct their daily duties from the comfort of their homes. Hence, we came about the idea of holding this event virtually and encourage people to participate remotely," he added.
"We witnessed great engagement by Batelco team members and achieved more than the 1M steps challenge we set for ourselves. There are plans to have more initiatives around #StayAtHome campaign, that will even be extended to our customers."