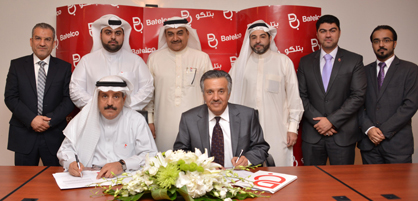 Batelco to Provide Complete ICT Infrastructure for Al Baraka Banking Group Headquarters
**Smart Building Technology to Demonstrate Batelco's Capabilities**
Batelco, the Kingdom of Bahrain's leading communications company, has signed an agreement with Al Baraka Banking Group (ABG), to provide ICT Infrastructure and system works for Al Baraka's ABG Towers Project, the Banking Group's new headquarters at Bahrain Bay.
Batelco CEO Rashid Abdulla and Al Baraka Banking Group's President & Chief Executive Adnan Ahmed Yousif signed the agreement this week at a meeting held at Batelco Headquarters in Hamala, Bahrain.
The new headquarters of Al Baraka Banking Group is constructed in the latest most modern architectural style featuring state-of-the-art technology to ensure its status as a 'Smart Building' to meet not only the present needs of ABG but also the Group's future needs, regionally and globally.
Batelco and Al Baraka Banking Group have an established relationship as trusted partners and the new agreement will enhance that bond. Batelco's delivery of cutting edge ICT solutions will translate into tangible business benefits such as enhanced operational efficiency, better compliance, lower costs and the ability for ABG to deliver world-class innovative banking services.
Mr. Abdulla expressed his pleasure at signing this agreement with Al Baraka and said, "This is one of a number of agreements we will be signing this year with leading establishments in Bahrain.
"We will continue to invest to ensure that businesses in Bahrain have access to the best communications products and services in the region."
Mr. Yousif said that partnering with Batelco was a strategic decision as the tactical approach of both organisations was to further develop Bahrain's standing regionally and internationally as a leading business hub while also supporting Bahrain's 2030 Vision."