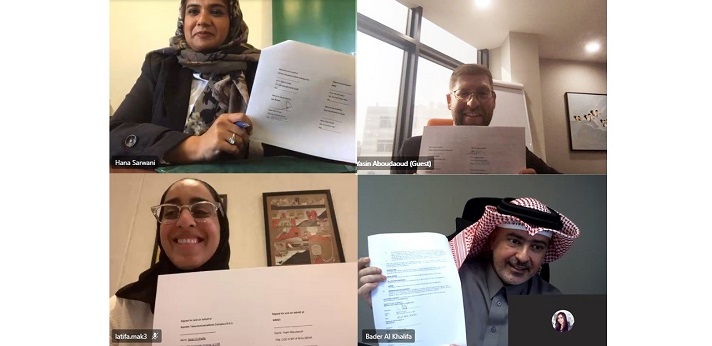 'Elevator to Success' Batelco's Youth Development Programme Launched
**Batelco Programme Part of Joint Initiative with INJAZ Bahrain, Brinc and Clever Play in line with its strategic social responsibility initiatives**
Batelco has launched the "Elevator to Success" youth development programme in collaboration with INJAZ Bahrain, Brinc, and Clever Play. The four participating entities signed a Memorandum of Understanding (MOU) during a virtual meeting held on the 2nd of December. The MOU was signed by Batelco General Manager Corporate Communications & CSR Shaikh Bader bin Rashid Al Khalifa, INJAZ Bahrain Executive Director Hana Sarwani, Brinc MENA CDO & MP Yasin Aboudaoud and Clever Play Co-Founder & CEO Shaikha Latifa Alkhalifa.
It was announced during the meeting that the "Elevator to Success" is a 4-year training programme that aims at closing the skill gap between graduates and employers. This will be achieved through early engagement at the beginning of the students' university education journey and through focussing on entrepreneurial and IOT skills. Throughout the programme students will be provided with mentorship, professional certification, and guaranteed on-job training.
Commenting on the initiative, Shaikh Bader bin Rashid Al Khalifa, General Manager of Corporate Communications & CSR at Batelco said: "It brings us great pleasure to establish this youth development programme, in cooperation with INJAZ Bahrain, Brinc and Clever Play."
"As a national company, we are committed to supporting the training and development of Bahraini students and preparing them for the Kingdom's labour market and even support their ambitions as potential industry leaders."
"We are developing this programme as a prototype and hope that it proves successful. Its measure of success will be the employment rate of students who complete the programme successfully. We hope to create a development framework that can be adapted by other organizations."
"Our community support focusses on initiatives that have positive impact on the society, with a key pillar being education which is in line with Batelco's social responsibility strategy. We look forward to the success of this youth-centric programme and its objectives which are designed to benefit the Kingdom as a whole in support of the 2030 vision, which has education and training among its priorities," Shaikh Bader concluded.
Interested participants can register to the programme on the link www.batelco.com/batelco-educational-programme