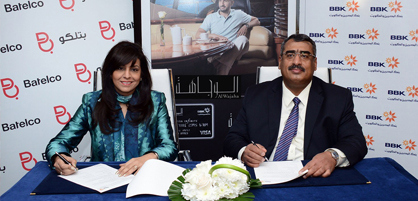 Batelco and BBK Sign Partnership Agreement
Batelco, Bahrain's leading business communications services provider and BBK, Bahrain's pioneer in retail and commercial banking have signed a new partnership agreement that will benefit customers of both organisations. The agreement was signed by Batelco's A/Bahrain CEO Muna Al Hashimi and BBK's General Manager Retail Banking, Mohamed Malik at a meeting held recently at BBK's premises in Manama.
The partnership will benefit both Batelco's Al Dana customers and BBK's Al Wajaha customers as both organisations will deliver special value added benefits to them as part of the new strategic partnership. Additionally, Batelco's Al Dana customers can apply for a BBK Al Wajaha Account and enjoy an exclusive package of financial services, travel services and personalised benefits. Similarly, BBK's Al Wajaha customers may apply for Al Dana membership and receive the excellent benefits offered through the Al Dana Club.
Following the signing ceremony Mrs. Al Hashimi said that Batelco was delighted to join hands with BBK to deliver some great benefits to the customers of both organisations.
"We are very pleased to develop on the strong relationship we already have with BBK and look forward to collaborating with them further to deliver value added benefits for our Al Dana customers," she said.
Mr. Malik said that BBK was delighted to partner with Batelco as Bahrain's leading business communication services provider, stressing that such cooperation is in line with the bank's continued efforts to offer the best products, services and benefits for its valued clients.
"The Al Wajaha and Al Dana Programmes deliver great benefits and privileges for their members and together combine to reward the loyal clients of both organisations. Both parties care about their clients' satisfaction and accordingly are committed to providing them with the best products, services and added benefits," added Mr. Malik.
Batelco has a well-established and successful presence in five BBK Financial Malls around the Kingdom, namely at Riffa, Budaiya, Exhibition Road, Muharraq and Adliya.