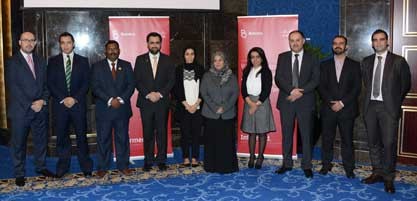 Batelco and Cisco Host "Simplify with Cloud" Conference
**Digital Business Transformation: Disrupt To Win**
Batelco, Bahrain's leading business communication solutions provider and Cisco, the worldwide leader in networking for the Internet, have collaborated to host a business sector focussed conference, Simplify with Cloud. Batelco, a Cisco 'Advanced Technology Partner' regularly partners with industry leading organisations to enhance its enterprise customers' experience.
The Simplify with Cloud conference was held at the Ritz Carlton Hotel with a number of Batelco's enterprise customers in attendance. The event was focused on the latest market trends for Cloud Solutions. During the event Cisco focused on a range of its cloud initiatives such as Energy Management, Meraki and Cloud Web Security.
Batelco, keen on empowering businesses to digitise their processes and improve their operational efficiencies was the first communications company in Bahrain to provide Cloud-based solutions. The telecom's comprehensive Cloud portfolio boasts a range of services for enterprises such as Cloud eCommerce, Security as a Service, Software as a Service, Cloud Infrastructure as a Service, and Cloud Collaboration as a Service.
Batelco Bahrain Acting- in-Charge of the Enterprise Division Donya Al-Ansari, said that Batelco was very pleased to join hands with Cisco and gather business sector customers by providing them with the opportunity to learn more about the latest trends in Cloud services.
"Our customers look for cloud solutions that are flexible and scalable that will enable them to better manage their operational costs. We are committed to exceeding their requirements by ensuring that our portfolio of Cloud services includes the latest solutions available."
"We are committed to enabling our customers to accelerate their digital transformation while reducing their costs and enhancing their productivity," Mrs. Al Ansari added.
Batelco has played a pivotal role in Bahrain's development as a major communications hub and today is the leading integrated communications provider, continuing to lead and shape the local consumer market and the enterprise ICT market.