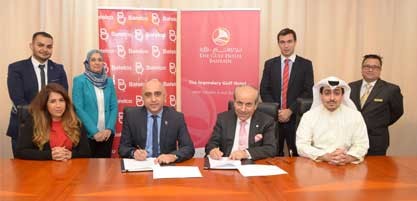 Batelco and Gulf Hotel Partner to Deliver Benefits to Customers
**Batelco's Al Dana Customers to benefit from Gulf Hotel's Prestige Club Programme**
Batelco, Bahrain's leading communications solution provider and the Gulf Hotel, the Kingdom of Bahrain's original five-star hotel since 1969, have entered into a partnership to deliver great benefits to Batelco's Al Dana customers.
The partnership agreement was signed by Gulf Hotel General Manager Rahim Abu Omar and Batelco Acting in Charge of Consumer Division Ebrahim Alsayed at a recent meeting held at the Gulf Hotel, in the presence of officials from the leading hotel and Telecom Company. The collaboration will put in place a number of key benefits for Batelco's Al Dana customers through the Gulf Hotel's Prestige Club programme.
Mr. Abu Omar said that Gulf Hotel feels privileged to enter into this joint venture with Batelco.
"Being the first telecommunications company in Bahrain, we anticipate a legendary beginning to this venture with Batelco and look forward to building on the relationship over time," he added.
Mr. Alsayed echoed Mr. Abu Omar's words saying that Batelco was also honoured and very pleased to join hands with such an iconic landmark hotel as the Gulf Hotel.
"As two long established organisations serving customers in Bahrain, the Gulf Hotel and Batelco are continuously looking at ways to enhance their customers' lifestyles and this new initiative fits in well with these aims," said Mr. Alsayed.
Al Dana Club is Batelco's exclusive Customer Relationship programme for residential customers who meet a number of set requirements based on long term loyalty to Batelco's products and services. The exclusive Club has been in operation for a number of years and Batelco regularly adds new special benefits for its members.
Among the privileges enjoyed by each Al Dana customer is access to a dedicated account manager to provide round the clock assistance with any telecom request. Al Dana Club members are offered special deals and promotions throughout the year and are the first to be offered Batelco's new products and services. The new partnership with Gulf Hotel will enhance the already rich portfolio of benefits that are available for Batelco's Al Dana customers.
The Prestige Club Programme of The Gulf Hotel Bahrain Convention & Spa is an exclusive loyalty package that entitles its members to enjoy extra rich benefits when using the 16 fine dining restaurants and lounges. It is one of the leading loyalty programmes in the Kingdom since it was established in 1991.