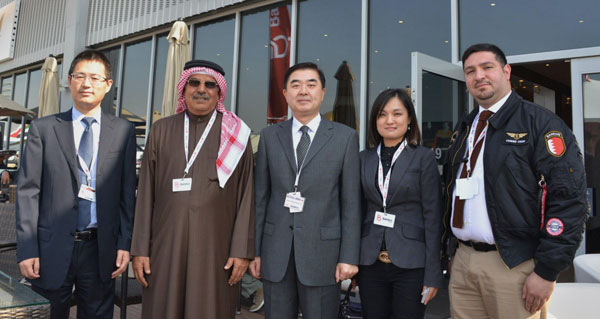 Batelco and Huawei Sign MoU at Bahrain International Airshow
**Agreement to Support Delivery of 4G for Batelco Subsidiary SURE**
Batelco, the Kingdom's leading integrated communications services provider and the official sponsor of Bahrain International Airshow  (BIAS) 2014 and Huawei, a leading global information and communications technology solutions provider, have signed an MoU (Memorandum of Understanding) on the sidelines of BIAS 2014.
Batelco Chairman Shaikh Hamad bin Abdulla Al Khalifa and Huawei VP Middle East Mr. Huang Ji signed the MoU which involves the delivery of 4G for Batelco's subsidiary SURE Telecom in Guernsey, Jersey and the Isle of Man. This MOU is a follow up with an agreement signed by Shaikh Hamad and Huawei Middle East President Mr. Shi Yaohong, during the Bahrain-China Business Forum held recently in Beijing, China.
Under the agreement, Huawei will deliver and integrate 4G LTE base stations into SURE's network. By implementing Huawei's cutting-edge SingleRAN solution, SURE is integrating its existing GSM/HSPA networks and the new LTE network onto the latest generation network. Huawei's Wireless SingleRAN, EPC and IMS networks will enable a wide variety of high-performance mobile applications and multimedia services, including video calling and conferencing, high-definition content transmissions, high-speed video downloads and uploads, and faster access to social networking platforms. The delivery of 4G will provide SURE's customers a superior mobile and fixed broadband experience, allowing them access to the world's most advanced broadband technology.
Shaikh Hamad said that Batelco very much appreciates the role that Huawei, as a leading communications technology solutions provider, plays in supporting the delivery of services for Batelco's customers, and the two companies now deepen their strategic alliance in developing future projects within Bahrain and across the globe.
"Huawei's technical expertise and their experience in implementing cutting edge communications solutions will be invaluable attributes in supporting Batelco's delivery of 4G for SURE," he added.