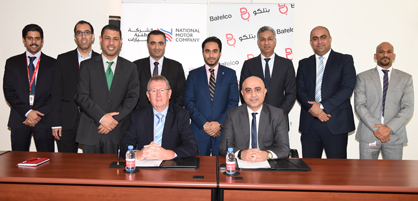 Batelco and National Motor Company Sign MoU to Provide Special Offers in Ramadan and throughout 2015
**Free Gifts and Raffle Prizes**

Batelco, Bahrain's leading communications solutions provider and National Motor Company (NMC), a leader in the local car sales business, have entered into a long term partnership to provide a fantastic range of benefits for NMC's customers. The partnership deal was sealed through the signing of a Memorandum of Understanding (MoU) during a meeting at Batelco's Hamala Headquarters recently. The MoU was signed by Batelco A/General Manager Consumer Division Ebrahim Alsayed and NMC General Manager Simon Austin in the presence of other officials from both organisations.
The agreement will see Batelco provide a free MiFi Device with one-year service and solution for every customer buying a new car from National Motors, starting from the beginning of Ramadan and continuing throughout this year. Batelco also has some top value exclusive fixed Broadband offers available for NMC's customers.
Additionally, to mark the occasion of Ramadan, every visitor to National Motors Showroom in Sitra during the Holy Month will receive a free gift from Batelco. Furthermore, customers who test drive and purchase cars will be entered into a raffle draw with the chance to win high value prizes. The raffle draws will take place weekly during Ramadan.
Mr. Alsayed said that Batelco is very pleased to sign the agreement with National Motors and support their efforts in providing an excellent service with added benefits to ensure its customers' satisfaction.
"The provision of a MiFi Device and one-year free service and solution with each new car will meet the evolving needs of customers who desire to be in touch 24/7, regardless of location. This service will enhance the lifestyle of people who want to have high speed connection on the go," added Mr. Alsayed.
Mr. Austin said that National Motors was delighted to join hands with Batelco to offer the free WiFi solution for its customers' who purchase vehicles and also delighted that Batelco will be providing a free gift for all visitors during Ramadan.
"The addition of high value prizes is a fantastic added benefit for customers who purchase or take our vehicles for a test drive," added Mr. Austin.