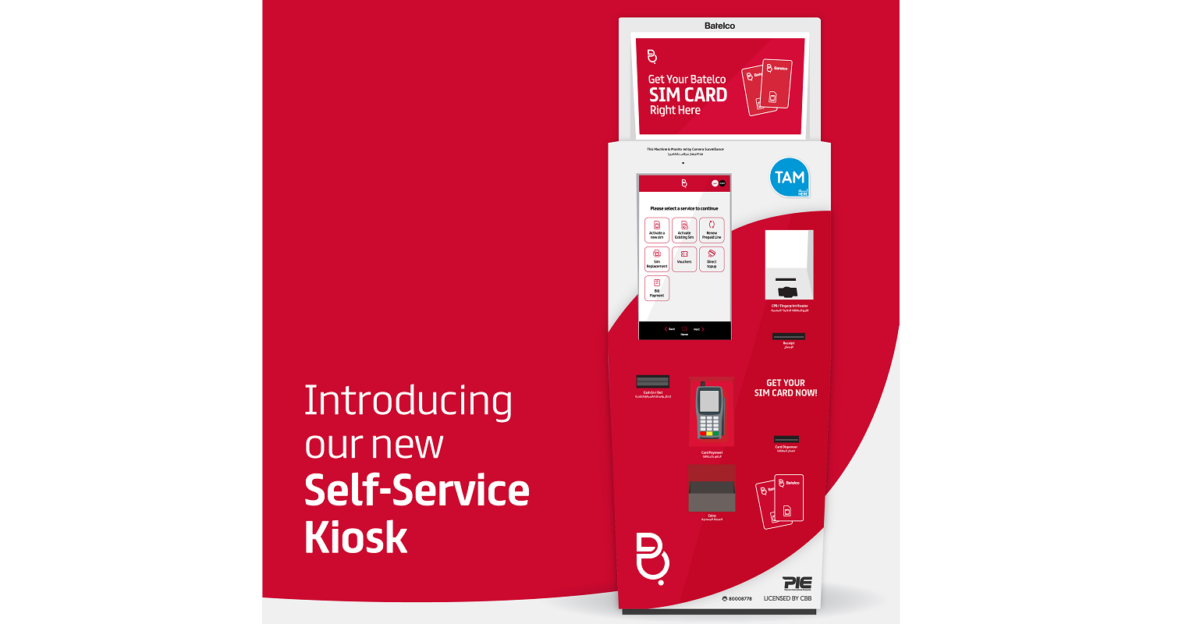 Batelco Announces Availability of SIM Cards Through New Smart Self-Service Kiosks
Batelco, Bahrain's leading digital solutions provider, is delighted to announce the launch of the new self-service kiosks with smart functionalities, the most important of which is the function allowing customers to instantly receive and activate new SIM cards. The kiosks were designed to enhance customers' experience and allow all customers to access the variety of services provided by Batelco, including mobile and home internet customers. In addition to SIM dispensing and replacement, customers can also register their SIMs using fingerprints, pay bills, purchase Prepaid mobile vouchers and benefit from a number of other services.
The self-service kiosk is an advanced and smart solution, and has proven its effectiveness in completing various types of transactions quickly, therefore reducing queuing time in branches. An added advantage of the new self-service machine is that it scans the required documents depending on the type of service selected by the customer, with the ability to capture ID cards, customer fingerprints and signatures. Furthermore, the channel accepts multi-payment methods including credit and debit cards, cash in and cash back. Nevertheless, customers can complete the process of ordering a new SIM through the self-service kiosk in just six steps, with the process taking about 4-5 minutes.
Commenting on the occasion was Maitham Abdulla, Acting GM Consumer at Batelco who said, "We always strive to provide services and develop solutions that will cater to the changing needs of our customers. By launching the smart self-service kiosk, we are empowering customers by enabling them to obtain a wide range of services through a more seamless process."
"This solution, which is a continuation of our digital support channels that includes Batelco App, eShop and the website, provides the convenience of receiving the required telecom services instantly, thereby reducing the waiting time in the branch, while also being available beyond the retail working hours," he added.
The new machines are currently available at a number of key locations including Batelco Headquarters in Hamala, Nesto Supermarket in Hamad Town, Bahrain Mall, Seef Mall, Food World at Bab Al Bahrain, Lulu Hypermarket in Galleria Mall, Hidd and Dana Mall. It will also be available at Juffair and Muharraq Central Market, and a number of Ramez branches across Muharraq, Riffa and Juffair, as well as in the Central Market and Isa Town.  The service will also be rolled out in more locations around Bahrain over the coming months.