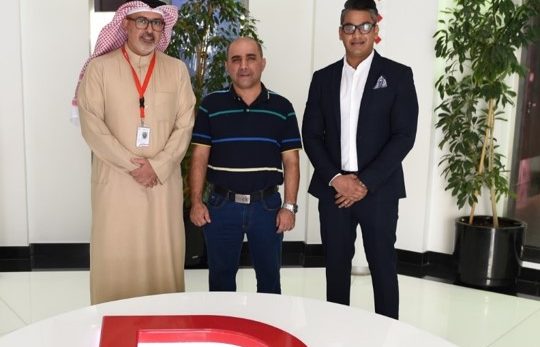 Batelco Announces 'Duel Game' Grand Prize Winner
Batelco has concluded the 'Duel Game' competition which formed part of its 'Fact of the Day Service' campaign. Launched in May 2019 and continuing for a period of 6 months, prizes ranged from daily to weekly and even monthly prizes, with the total value amounting to BD31,000. The competition created a fun-filled atmosphere where competitors where able to interact on the competition's website in order to increase the number of points in their account, for the chance to win the grand cash prize.
The winners of the monthly prizes for September, October and November, in addition to the Grand Prize winner were hosted at Batelco's Headquarters in Hamala and received by members of the management team.
Mr. Ghassan AbdulQader was named the winner of the Grand Prize of approximately BD5,000 for having accumulated more points than the rest of the competitors. Mr. AbdulQader was received by Shaikh Bader bin Rashid Al Khalifa, General Manager of Corporate Communications and CSR at Batelco and Chief Marketing Officer Bilal Adham, who congratulated him on the win and encouraged him to participate in the Company's upcoming competitions.
Commenting on the occasion, GM Consumer Division Maha Abdulrahman said, "We are thrilled with the success of this competition, as well as the interaction that exceeded our expectations, where customers were able to enjoy a fun activity and have an educational experience at the same time."
The names of the daily, weekly and monthly winners have been added to the 'Duel Game' website. Over 180 customers won daily, weekly and monthly prizes, in addition to the Grand Prize winner.