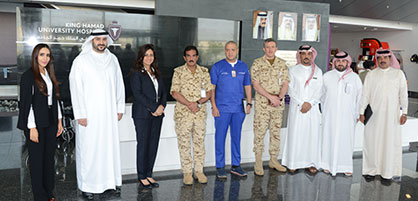 Batelco CEO Tours King Hamad Hospital
**Fostering Relationships with Leading Organisations**
Batelco Bahrain CEO Muna Al Hashemi was very pleased to meet with King Hamad Hospital CEO & Consultant ENT Surgeon Major General Dr. Salman Al Khalifa during a recent visit and tour of the leading medical facility. A number of officials from both leading organisations participated in the tour.
As the Kingdom of Bahrain's leading communication solutions provider, Batelco strives to foster strong relationships with local enterprises such as King Hamad Hospital. During the tour of the hospital's state-of-the-art facilities the CEO's discussed programmes of mutual interest.
The knowledge and experience that Batelco has developed over many years positions the company as a key player in the regional communications industry and ensures it is the primary partner for established and new businesses in Bahrain. Batelco's comprehensive choice of products and services guarantees world-class quality and efficiency as it meets international standards.
Furthermore, Batelco takes pride in expertly customising solutions to meet the specific needs of customers, bearing in mind the variety of requirements from companies operating across different industries, sizes and operational nature.
Batelco is fully committed to helping businesses grow through technology, thereby increasing their efficiency and competitiveness. The Company is constantly on the quest to expand its solutions portfolio in order to support the increasing communication requirements for organisations across all sectors, including the crucial medical sector – a sector vital to the Kingdom's wellbeing and economy.