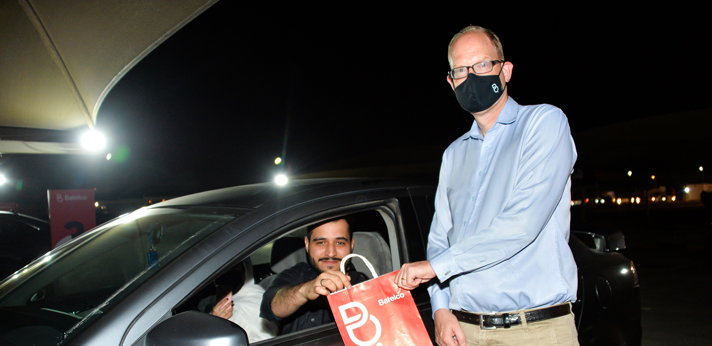 Batelco Drive-Thru Event Returns for Launch of iPhone 13
Manama, Bahrain: Batelco's campus in Hamala opened its doors last night to customers who lined-up to be among the first to receive the new iPhone 13. The event was attended by Batelco's executive management team, including the General Manager of the Consumer Division, Maitham Abdulla, and Batelco CEO Mikkel Vinter who personally handed a new iPhone to the first Batelco customer in line.
The iPhone 13 features a faster A15 Bionic chip designed by Apple, an enhanced dual-camera system, smaller notches, and new colours. 5G connectivity is included for better quality video streaming, higher-definition FaceTime calls, and improved gaming for a more immersive experience. Batelco offers the complete iPhone 13 lineup, which includes iPhone 13 Pro, iPhone 13 Pro Max, iPhone 13, and iPhone 13 mini, with a range of Postpaid 5G package options.
Commenting on the launch, General Manager Consumer Division Maitham Abdulla said, "We have always prioritised our customers here at Batelco, and we remain committed to providing them with the latest devices available on the global market, as well as offering a variety of packages and exclusive benefits, designed to meet their needs."
Mr. Abdulla also added, "As Bahrain begins to slowly open up and embrace responsible social interaction, we were keen to bring our customers together while adhering to social distancing measures and mark the launch of the latest iPhone in Bahrain. With Batelco's Kingdom-wide 5G coverage, customers will be able to experience the full potential of the iPhone 13."
Mahmood Ghulam, the lucky first customer to collect his phone at the event said that he was delighted to be first in line. "Batelco made me feel very special by arranging to have my phone personally handed to me by the Batelco CEO. The entire experience from pre-ordering to collection was smooth and I am thrilled to have my stunning new iPhone in my hand. I can't wait to get it up and running!"
The car park at the Batelco campus was converted into a drive-thru collection point for customers who had already pre-ordered their device on Batelco's website. Customers were able to dine alfresco or in their cars from a selection of local food trucks and enjoy a complimentary coffee and ice cream offered by a number of local F&B businesses as they waited to collect their phone.
Batelco's shops at City Center and Enma Mall were also open on the night, receiving walk-in customers who wished to purchase iPhone 13 devices. As an added treat, giveaways and valuable gifts were given to some of the first customers at the Hamala drive-thru and the Retail shops.