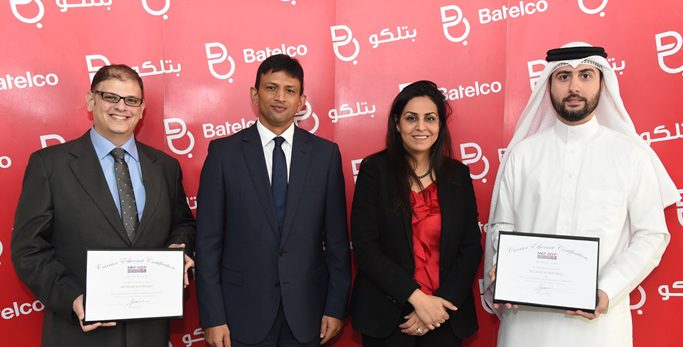 Batelco First Provider in Bahrain with MEF Carrier Ethernet Specialist Certification
Certification Benefits Batelco's National and International Customers

Batelco, Bahrain's leading digital communication solutions provider, in line with its commitment to support the skills and qualifications of its employees, is proud to announce that two of its engineers have achieved Metro Ethernet Forum (MEF) Carrier Ethernet Professional Certification. The success of its certified engineers means that Batelco is the first and only provider in Bahrain that has engineers with such credentials.
The MEF, founded in 2005 is a non-profit international industry consortium, dedicated to the adoption of Carrier Ethernet networks and services. The Forum is composed of service providers, incumbent local exchange carriers, network equipment vendors, and other networking companies that share an interest in Metro Ethernet.
Batelco Bahrain CEO Eng. Muna Al Hashemi said that she was very proud of the efforts of the two engineers Waleed AlShomili and Homam Khawajki and congratulated them on their excellent achievement.
"There are a significant number of highly skilled technical professionals amongst Batelco's employees which ensures an enhanced service for customers. We always encourage ongoing learning for employees not only in courses that enhance their skills for their work roles but also in other areas that interests them, thanks to our huge selection of eLearning courses," she added.
Batelco Chief Technology and Information Officer Bashier Sallie said that having engineers with such credentials will strengthen Batelco's market presence by creating proper recognition and differentiation through offering advanced CE 2.0 services and products.
"Such provisioning will provide Batelco and its national and international customers with the capability to offer the best of class of Ethernet services during all the stages of MEF services deployment and support. Ultimately, this translates into considerable benefits for our customers allowing us to serve them better," Mr. Sallie added.
"Being a major ICT provider, Batelco strives to attain the highest level of certification from global industry providers to further enhance customers' confidence in the company's products and services, and thus enhance their experience with Batelco," Mr. Sallie concluded.