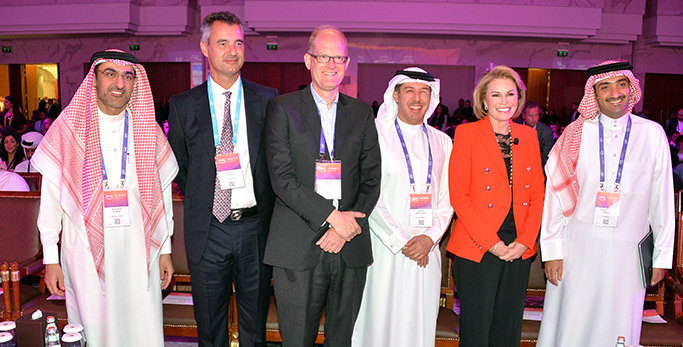 Batelco Gold Sponsor of Amazon Web Services Summit (AWS) in Bahrain
Batelco Chairman Shaikh Abdulla bin Khalifa Al Khalifa accompanied by the Company's CEO Mikkel Vinter and members of the executive management team were in attendance at the Amazon Web Services (AWS) Summit which took place on September 15 at The Gulf Hotel, Bahrain.
Batelco's Gold Sponsorship of the key event is in line with its role as the Kingdom's leading digital services provider and its commitment to its partnership with Amazon Web Services. During the summit, Batelco held a key presentation on its Cloud Solutions which are delivered in collaboration with AWS.
Batelco Chairman Shaikh Abdulla bin Khalifa Al Khalifa said that: "Batelco was very pleased to support the AWS annual summit and stressed the importance of the Company's partnership with Amazon in supporting the growth and development of Cloud services for the Kingdom of Bahrain and enabling organizations in their cloud adoption".
Mr. Vinter added: "Ensuring the availability of the latest in Cloud solutions meets the evolving needs of businesses and benefits them through cost reduction, flexibility in work, ease of data organization, upgrade in efficiency and much more."
The Amazon Web Services Summit is considered one of the most prestigious summits in cloud computing and is held in major cities around the world, attracting technologists from all industries and skills who want to discover how AWS can support them to innovate quickly and deliver flexible, reliable solutions at scale.
The event coincided with Batelco's announcement that the Company is providing network connectivity to the newly launched AWS Direct Connect location in Bahrain. By providing network connectivity, Batelco is providing customers the ability to leverage AWS Direct Connect as part of its B Cloud Connect Solutions cloud, which are designed to enable enterprises to rapidly scale their global digital business operations and easily extend their reach to a wider global audience.