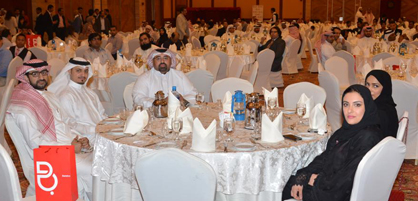 Batelco Hosts Ghabga for its Business Customers
Batelco's Enterprise and Government Division welcomed over 300 of its business customers to a Ramadan Ghabga banquet at the Gulf Hotel, on Sunday, 6th July. The event, which was attended by Batelco Bahrain Chief Executive Rashid Abdulla and Batelco Enterprise General Manager Adel Daylami and a number of Batelco senior management, was held in the prestigious Gulf Convention Centre.
The evening event gave Batelco business customers a valuable opportunity to network, socialise and meet Batelco management while enjoying Arabic dishes and Ramadan specialties.
"This event was held in honour of our business customers, to whom we owe much of our success," said Mr. Abdulla.
"The evening was a success and my team and I were delighted with the impressive turn out. From the feedback received, everyone enjoyed the great occasion."
Mr. Abdulla addressed the business customers and reiterated that he and his business account managers welcomed the opportunity to socialise with their valued customers.
"As Bahrain's leading provider of business oriented communications solutions, Batelco is always seeking to forge closer links with its business customers and such events provide the ideal setting," he added.