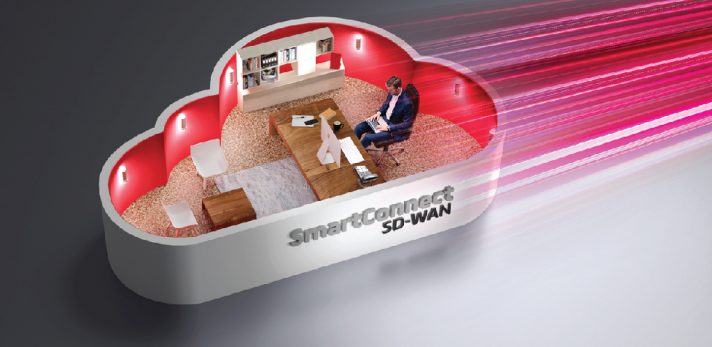 Batelco Launches 'SmartConnect' Service with SD-WAN 2.0 Technology
Batelco, the leading digital solutions provider in the Kingdom announced the launch of its 'SmartConnect' service on SD-WAN 2.0 technology, with the aim of supporting cloud connectivity, automation and digital transformation services for Batelco's Bahrain based and international enterprise customers. Batelco will complement its existing business services by providing customers with simplified management of, and dynamic support for, traditional connectivity, cloud and IoT applications. This development follows the signing of an agreement between Batelco and Nokia during GITEX last year.
Batelco is the first in the Kingdom to offer the SD-WAN 2.0 'SmartConnect' service as part of its digital business strategy, where SD-WAN 2.0 technology can use software-defined networks (SDN) over any type of wide area network (WAN). Batelco customers can enjoy advanced control over their network, allowing network traffic segmentation where data transmissions can be prioritized on reliable pathways and less-critical traffic routed to public internet connections. With the new service, Batelco's enterprise customers can also reduce their IT admin costs by managing their corporate networks, including branches, data centres and the public cloud, using one unified dashboard. The dashboard will support customers managing key functionalities, such as user access, security as well as quality and performance parameters, across the network. This service will support Batelco's digital transformation strategy for customers across various sectors such as banking, healthcare, education, hospitality, transportation and energy.
Speaking on the occasion, Batelco GM Enterprise Division, Abderrahmane Mounir said, "We are delighted to announce the launch of 'SmartConnect', which will allow enterprise customers to have comprehensive control over their networks, and efficiently carry out their business with improved capability. We are extremely proud to be the first to launch this service in the Kingdom. The launch of 'SmartConnect' is in line with our digitization strategy to position the Company as a leader in providing digital communication solutions in the Kingdom of Bahrain and the region. We reaffirm our commitment to provide our customers with the latest technologies and to continue contributing towards the development of the telecommunications sector in the Kingdom in support of the growth of the digital economy."