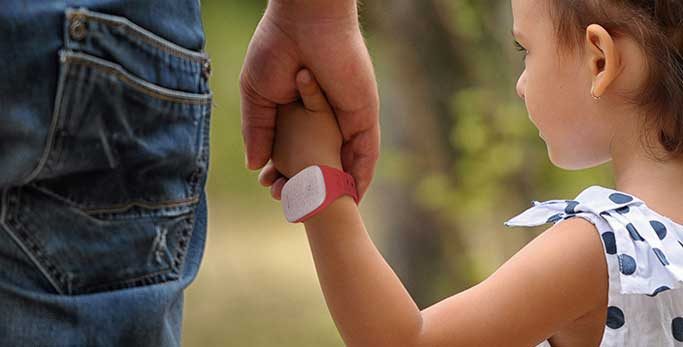 Batelco Provides Child Safety Solution
**Upgrade your World with Batelco**

Batelco, in line with its commitment to 'Upgrade Your World' has introduced the latest child safety solution, the LG KizON wearable device, to allow seamless communication between parents and their young children at all times. The easy to wear wrist band, designed with little ones in mind, is offered by Batelco with unlimited calls and GPS tracking function for only BD5 per month.
The LG KizON is a wearable device designed to enable children aged 4 to 9 to easily connect with their parents. It is not a smart phone or mobile but a simple tracking device with a single call button. The child-tracking bracelet works by connecting to a KizON app on the parent's mobile device helping them to call and keep track of their child's location.
This combination is a great feature to provide worrying parents with peace of mind when their children travel alone to a nearby school or other locations and even make sure the little ones don't get lost while on a shopping spree or on a holiday.
Batelco Bahrain CEO Eng. Muna Al Hashemi said that as a parent nothing is more stressful than worrying about your young children when they are out of sight and being able to have peace of mind by knowing where they are at all times is a wonderful benefit.
"Every parent knows the panic caused when a small child vanishes momentarily while in a shopping mall as the little one wanders off to look at something that catches their attention. Now parents need stress no more as the child's wearable device is synced with their own mobile phone."
Batelco Chief Marketing Officer Mike Stanford added that the LG KizON with its child friendly design with a single big call button was easy for even the smallest child to manage.
"Young children often need the reassurance that their mum or dad is nearby and thanks to this device they can have two-way communication and hear a parent's voice with the touch of a button, even if distance separates them."
Batelco has always embedded innovation as central to its strategy and since the Company's inception has been connecting people and places via the most up to date telecommunications services, to upgrade their world and deliver a first class customer experience.
"We want to 'upgrade the world' of communications for all our customers through our provisioning of the latest products and services at value for money prices. As Bahrain's most advanced digital network we'll keep bringing you innovative ways to connect better, work better and live better," concluded Mrs. Al Hashemi.