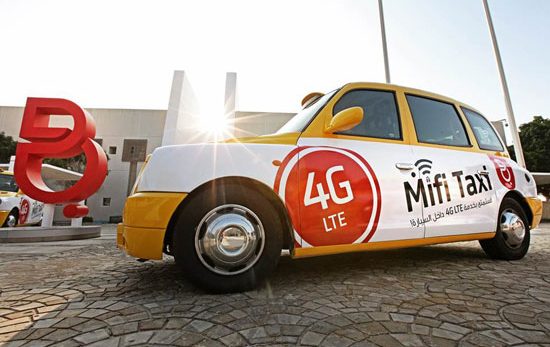 Batelco Provides WiFi Service for Arabian Taxi Passengers
** 4G Mobile Broadband Service on the Road**
For the first time in Bahrain and the region, Batelco now offers 4G LTE Wi-Fi in Arabian Taxis all over Bahrain. This service is a new high speed Wi-Fi service for passengers travelling in Arabian Taxis. The system exclusively turns 3G and 4G mobile connectivity into a Wi-Fi hotspot for passengers.
This service will help passengers and tourists keep connected to the internet and stay in touch with their loved ones while on the go.
Batelco has signed a partnership deal with Arabian Taxi Company to greatly benefit their passengers by providing Wi-Fi in all Arabin Taxi Radio Cabs. This is part of the continuous efforts made by Batelco to meet its customer's satisfaction.
Passengers arriving at Bahrain International Airport, or just taking a taxi at a mall or other locations in Bahain will now be able to enjoy Batelco's free Wi-Fi 4G LTE mobile broadband on board during their taxi journeys. To use the service, passengers can connect to the Wifi network and ask the driver for the password to get connected to Batelco's 4G MiFi. Customers can connect to Batelco's 4G/LTE Wi-Fi using Laptops, Smartphones, Tablets, and other enabled devices while on the move. This service will enhance the evolving lifestyle of people who want to have high speed connection on the go.
Batelco General Manager Consumer Division Muna Al Hashemi said that Batelco is very pleased to sign the agreement with Arabian Taxi to provide a first of its kind service in Bahrain.
"This is a completely new idea for residents and visitors in Bahrain and delivered by Batelco in response to the demand for everyone to be in touch 24/7, regardless of location. We anticipate that the service will prove to be very popular. This innovative service comes as part of the various innovative services provided by Batelco in line with the biggest 4G network in the kingdom."
"Wi-Fi Taxi customers can book a Cab by calling Arabian Taxi's office to enjoy the service. Each taxi driver will provide the passenger with the Wi-Fi password allowing the passenger to enjoy browsing, streaming, gaming and much more," added Mrs. Al Hashemi.