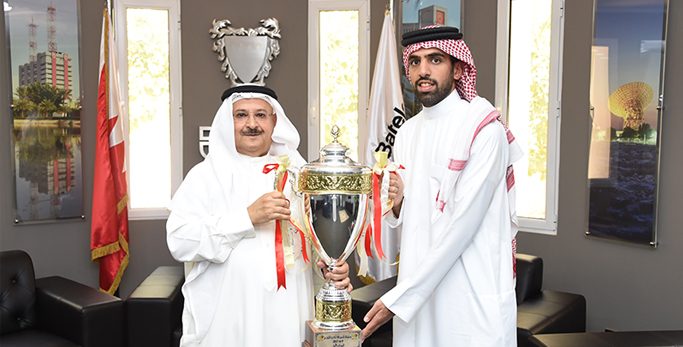 Batelco Sponsored Gunners United Team Win Nasser 10 Football Tournament
Batelco's Sponsorship part of its Commitment to Youth and Sports

Batelco as part of its CSR commitment to Sports and Youth events was very pleased once again to sponsor Batelco Gunners United football team for their participation in the Nasser 10 Football Tournament, which concluded recently at Khalifa Sports City. Following the very competitive round of matches against the best players in Bahrain, Batelco Gunners United claimed the winner's trophy following the final against Al Fakhar.
Following the win, Batelco Gunners United Captain Shaikh Khalid bin Salman Al Khalifa dedicated the win to the honorary president of the team H.H. Shaikh Mohammed bin Salman Al Khalifa and to Batelco, as the team's sponsor.
Shaikh Khalid paid a visit to Batelco Headquarters to meet with Batelco Chairman Shaikh Mohammed bin Khalifa Al Khalifa to extend appreciation on behalf of all the team for Batelco's support.
Shaikh Mohammed congratulated Shaikh Khalid on the team's success and wished them well for all future events.
"Batelco has always been linked to major sporting events which play such an important role in the lives of Bahrainis and all residents of the Kingdom of Bahrain. Sporting events bring all ages and nationalities within the local communities together and form a major part of our annual CSR commitment," he said.
Batelco Senior Manager Corporate Affairs Osama Alsaad said that the annual Nasser bin Hamad Ramadhan Sports tournament has grown in popularity and provides fantastic entertainment for both participants and spectators.
"We were very pleased to provide support to Batelco Gunners United and everyone at Batelco is delighted that the team's efforts have brought them success this year. Such sports events which promote and hone the skills of local sportsmen are important to Batelco and we were delighted to be involved," he said.