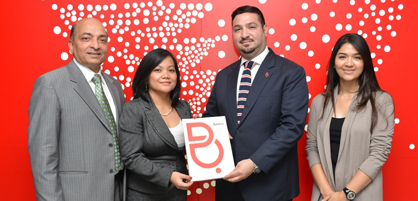 Batelco Sponsors Awali Ballroom at Sheraton Hotel
Batelco, as part of its commitment to local businesses has sponsored a number of Ramadan events and venues including the Ramadan venue at the Sheraton Hotel's Awali Ballroom. The beautifully appointed venue offers a very warm welcome to all during the Holy month, with a menu designed especially for the occasion.
Batelco Group General Manager Media Relations Ahmed Al Janahi said that Batelco was very pleased to align itself with the long established luxury hotel which has been an icon in the Kingdom of Bahrain for many years.
"Ramadan is a very special time in Bahrain's calendar and we therefore strive to support a varied range of activities that add value for our customers and all residents of Bahrain," added Mr. Al Janahi.
Sheraton Hotel Director of Food & Beverage Rama Shetty said that the Sheraton Hotel is very pleased to have Batelco on board to sponsor their Ramadan venue at the Awali Ballroom.
"We are delivering traditional Bahraini hospitality with a welcoming ambience that will take our guests on a traditional and enjoyable journey."