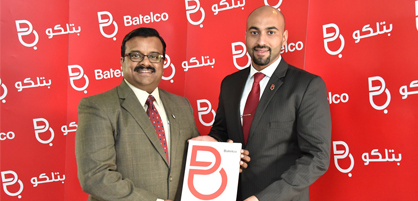 Batelco Sponsors YMCA Bahrain Chapter Events
Batelco, as part of its commitment to community events, has announced its sponsorship for a number of YMCA Bahrain Chapter Events. Some successful programmes have already taken place with the local Chapter's main event to round of the year taking place in the Abdul Rahman Kanoo International School on 13 December.
Batelco Public Relations Specialist Mohamed Al Faraj presented the sponsorship cheque to YMCA Bahrain Chapter Jiju Verghese at a recent meeting held at Batelco's Hamala Headquarters.
Batelco Group General Manager Corporate Affairs & Media Relations Ahmed Al Janahi said that Batelco has a very strong Corporate Social Responsibility programme with the aim of reaching out and supporting a wide range of community events.
"Amongst the variety of events we support there are a number of programmes under the umbrella of Arts and Culture which provide great entertainment for the general public," he added.