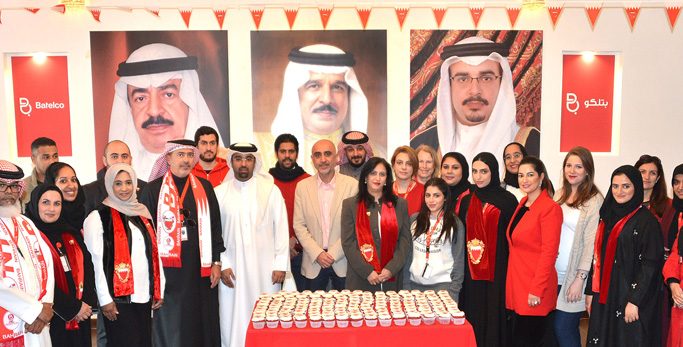 Batelco Staff Celebrate National Day
Staff Gather at Hamala Headquarters to Mark the Special Occasion

Batelco, the Kingdom's leading digital solutions provider, held a special celebration for its employees on the occasion of Bahrain's National Day. The celebration was held in the company's headquarters in Hamala in line with the company's efforts to celebrate all national events, creating a joyous atmosphere amongst staff members.
The celebration is among the most special occasions of the year and provides the company the opportunity to thank staff for their efforts throughout the year in playing their part to reach the Company's goals which are in line with the aspirations of the Kingdom's of Bahrain's leadership to ensure a world class connected society.
Batelco's family represented by Batelco Chairman, Board of Directors, CEO, management, staff and Trade Unions extended their congratulations to His Majesty King Hamad bin Isa Al Khalifa, His Royal Highness Prime Minister Prince Khalifa bin Salman Al Khalifa, His Royal Highness Prince Salman bin Hamad Al Khalifa, the Crown Prince, Deputy Supreme Commander and First Deputy Premier and the people of Bahrain on this occasion, the Kingdom of Bahrain's National Day and the 18th Anniversary of His Majesty the King's Accession to the Throne.
Chief Executive Officer of Batelco Bahrain, Mr. Mohamed Bubshait stressed on the company's commitment towards accomplishing further achievements and successes within the telecommunications industry under the guidance of the wise leadership, as well as contributing to the enhancement and prosperity of the national economy while maintaining the leading position the Kingdom of Bahrain holds within the sector.
He also highlighted the company's eagerness to continue harnessing all available resources, products and services to enable the Kingdom of Bahrain to be at the forefront of ICT sector.
Batelco prides itself in its strategy to develop the industry by offering the latest products, services and digital solutions with the aim of enhancing communications for its customers and positively contributing to the Kingdom's GDP in line with the Kingdom's Vision 2030.