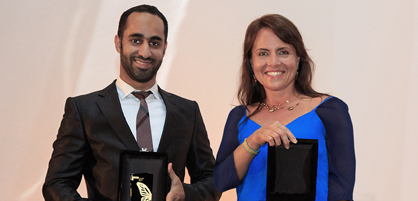 Batelco Wins 5 Brand Awards at The Transform Awards MENA
**Prestigious AwardsRecognises Batelco's Visual Brand Identity**
Batelco, Bahrain's leading communications solutions provider has won five major accolades for excellence in branding at The Transform Awards MENA, which took place recently in Dubai. The accolades, which include three gold awards, one silver and one highly commended are in recognition of Batelco's innovative visual brand identity and strategic brand development programme, created in partnership with branding and communications consultancy, Unisono.
An international jury selected Batelco for one of the show's highest accolades'Best Overall Visual Identity'in the technology and telecommunications sector,and also for 2 further gold awards for 'Best use of a Visual Property' and 'Best Visual Identity'. In addition, the company received a silver award for the 'Best Implementation of a Brand Development Programme' and was highly commended for 'Best Brand Evolution'.
Batelco A/General Manager Consumer Division Ebrahim Al Sayed said that Batelco was very proud of this outstanding achievement which validates the Company'sbrand development and creative marketing campaigns.
"These awards recognize our success as a brand, and further reinforce our reputation as a leading telecommunications company in the region."
UnisonoFounding Partner and Executive Creating DirectorLiam Farrell said, "This award celebrates a successful partnership with Batelco and illustrates the international quality of Unisono's brand and creative strategies. It proves that brilliant work is possible in Bahrain when like-minded people collaborate with the ambition of achieving their best".