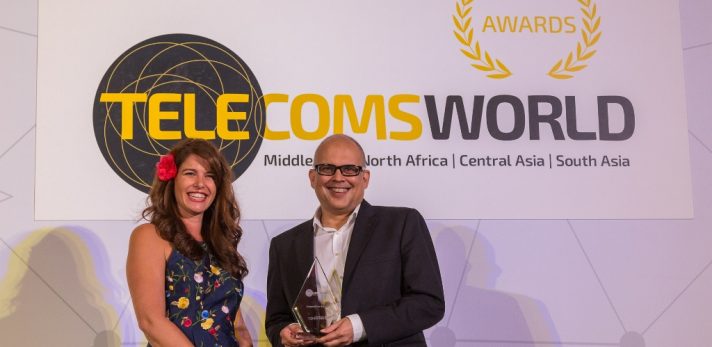 Batelco Wins The Innovation Award and Best Emerging Market Initiative Award at the Telecom World Awards 2017
Manama, Bahrain: Batelco, Bahrain's leading digital solutions provider has been presented with the Best Emerging and Frontier Market Initiative Award and The Innovation Award at the 11th annual Telecoms World Awards ceremony, held at the Ritz Carlton in Dubai on September 18th.
The prestigious ceremony and dinner was held as part of the Telecoms World Middle East conference, which is among the region's largest conferences dedicated to examining the future of telecoms in the Middle East, North Africa, South and Central Asia and across the globe.
The Telecom World Awards, judged by an esteemed panel of industry judges, are designed to recognise the telecoms industry operators that have demonstrated outstanding performance, major achievement and innovation during the year.
The prestigious Best Emerging and Frontier Market Initiative Award recognises the operator that has invested time, effort and money to transform its networks and operation to ensure it has the necessary ecosystem in place to meet the challenges that prevail in the communications industry as the world goes digital.  As part of its evolution, Batelco's is deploying a nationwide Superfast Fibre Network which positions Bahrain at the forefront of technological innovation in the region.
The significant Innovation Award recognises the operator that is investing towards the delivery of innovative new products and services for its customers. Among Batelco's initiatives during the past year was the launch of its Cloud based IPTV service, Batelco TV, a first of its kind in the region. Batelco TV is a fully fledged OTT based IPTV service which comes with a unique business model that is aligned with the future trend of everything cloud, providing dynamic content blended with a world class high definition TV experience.
Batelco Bahrain CEO Eng. Muna Al Hashemi said that she was really delighted with Batelco's success at the Telecoms World Awards in winning two prestigious awards.
"Batelco recognises that excellence in ensuring innovative products and services underpins the success of any telecom operator and accordingly Batelco has invested heavily in areas such as its superfast fibre network and value added services such as a cloud based TV offering."
The winners were awarded at the Gala dinner attended by senior executives, personalities and VIP's from the region's leading establishment. Batelco Group Chief Digital Officer Karan Ponnudurai and Batelco Group Chief Wholesale Officer Ahmed Abdellatif who were speakers at the event collected the awards for Batelco.