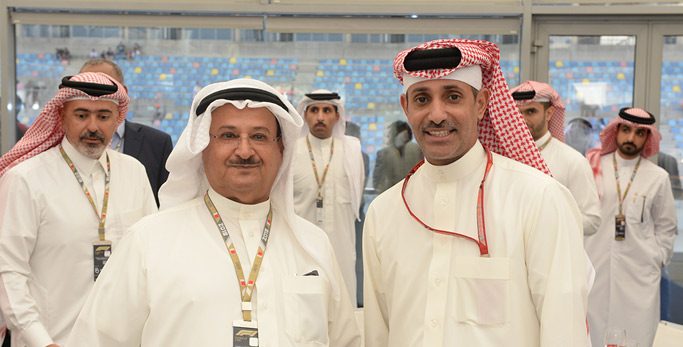 Guests Enjoy Batelco Hospitality at the BIC's Paddock Club
Batelco Chairman Shaikh Mohamed bin Khalifa Al Khalifa, along with members of Batelco's Board of Directors and executive management, were delighted to have the opportunity to welcome overseas and local business clients to enjoy Batelco's hospitality in the prestigious setting of the BIC Paddock Club, for the 2018 Gulf Air Bahrain Grand Prix.
Batelco has been an Official Partner of the BIC since the beginning of F1 in Bahrain in 2004, and additionally the circuit's Official Telecommunications partner ensuring the provisioning of world class communications services with premium international standards.
Batelco Chairman Shaikh Mohamed said, "The annual F1 event shines the spotlight on the Kingdom of Bahrain and places the Bahrain Grand Prix among the most popular international sports worldwide. As the BIC's telecommunications partner, we make every effort to ensure that local and international visitors to the circuit benefit from the world class services we offer."
He added, "Batelco is committed to playing its part in portraying Bahrain as a world-class location capable of providing communication solutions that contribute significantly to the Kingdom's prosperity and development as a leading business and tourism hub."
Batelco Bahrain CEO Mohamed Bubashait said, "The event offers the perfect opportunity to meet with business clients to discuss their needs and future plans and the ways that Batelco can support their growing and evolving requirements."
"Such meetings within this superb setting provide the perfect opportunity for Batelco's teams to communicate with customers and clients away from work pressures and in a relaxed atmosphere," added Mr. Bubashait.
Batelco in Bahrain plays a very crucial role as a leader in the regional communications industry. Through ongoing investment in Bahrain's communications infrastructure, Batelco is fully supportive of the needs of business customers, with particular emphasis on the delivery of digital solutions that will help them to compete more efficiently internationally.