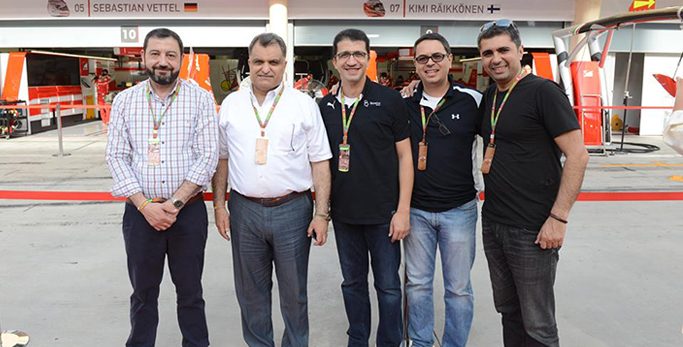 Guests Enjoy Batelco Hospitality at the BIC's Paddock Club
Board of Directors, Management and Guests Join Batelco at F1 Event

Batelco Group CEO Ihab Hinnawi and Batelco Bahrain CEO Eng. Muna Al Hashemi, along with members of Batelco's Board of Directors and executive management, were delighted to have the opportunity to welcome overseas and local business customers to enjoy Batelco's hospitality in the prestigious setting of the BIC Paddock Club, for the 2017 Gulf Air Bahrain Grand Prix.
Batelco is an Official Partner of the BIC since the beginning of F1 in Bahrain and additionally the circuit's Official Telecommunications partner ensuring the provisioning of world class communications services for the annual high calibre event.
Mr. Hinnawi said that he and the Batelco teams welcomed the opportunity to meet with Batelco's major business customers in such a superb setting as the BIC on Grand Prix weekend.
"The event offers the perfect opportunity for our teams to meet with our customers to discuss their needs and future plans and ways that Batelco can support their growing and evolving requirements. We are fully committed to the role we play in supporting business in Bahrain and overseas via our joint venture operations," he said.
Eng. Al Hashemi added that Batelco in Bahrain plays a very crucial role as a leader in the regional communications industry. "Through our ongoing investment in Bahrain's communications infrastructure, Batelco is fully supportive of the needs of our business customers, with particular emphasis these days on the development of digital solutions that will help them to compete more efficiently internationally," she explained.
A number of guests spoke about their business relationships with Batelco on the side-lines of the event and noted how satisfied they were with their overall communications experience.
Bahrain Airport Company Vice President of ICT Najwa A. Rahim noted that Bahrain Airport Company and Batelco have enjoyed a longstanding and successful relationship that continues to be beneficial to both parties.
"Whatever communications services we need and whenever we need it, Batelco personnel are always very attentive and deliver without delay. This is so important in supporting us to carry out our work effectively and efficiently," she added.