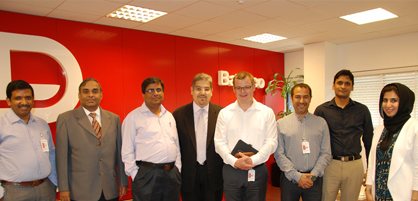 Jawad Business Group Visits Batelco Ideas & Customer Experience Centres
**Visit Part of Batelco's Commitment to Local Leading Industries**

Members of Batelco's Management Team were delighted to welcome members of the Jawad Business Group to the Batelco Headquarters in Hamala, recently.
Jawad Business Group visited Batelco's Innovation Centre, 'ideas'. The Centre is a hub featuring the latest communication technologies and emerging services that are still in the development stage. It also hosts an Entrepreneurs Zone which can be used by small business owners for Information and Communication Technologies (ICT) project development. The ideas Centre is open to the public for educational tours or for interested visitors to experience first-hand the various gadgets.
The tour also included a visit to Batelco's Customer Experience Centre, a cutting edge facility showcasing Batelco's products and services to business customers. The visitors from Jawad Business Group were briefed on how the Centre has been designed and developed around the needs of customers. Subsequently, Batelco shared with Jawad Business Group their customised offerings designed for large corporations spanning all industries. The visitors experienced the latest products and services such as Unified Communications (UC) and mobility, and data connectivity backup solutions.
Following this visit, Batelco once more echoes its commitment to supporting Bahraini businesses, such as Jawad Business Group, with their telecommunication requirements. Batelco prides itself in being the favoured provider for Bahraini businesses, ensuring it plays a vital role in contributing to Bahrain's future vision for strategic economic development and prosperity.